Suzi Chin is an American fashion designer who was born in Hong Kong. Although she was born in Hong Kong, she grew up in New York City. It did not take her long to make a name for herself in the United States. While attending the highly prestigious Parson's School of Design, she won the coveted Golden Thimble Award. For those in the fashion and design industry, this award is basically like winning an Academy Award or a Grammy.
Suzi Chin and Early
Career
When Suzi Chin first started her career, she was the primary designer for Albert Nipon. Nipon is a very well known dress maker who was prominent during the 1980s. While there she created a line of dresses designed specifically for professional women. This line was called the Executive Dress. Later she got promoted all the way up to the Vice President of Design for Nipon Boutqiue, which is the biggest division in the entire company. For the subsequent twelve years, she continued to climb the fashion ladder and joined the Jones Apparel Group. During her stay there she was the Design Director for prominent dress divisions of companies like Ralph Lauren, Anne Klein, Evan Picone, and Nine West.
Suzi Chin and New Products
Suzi Chin got to realize her dream in 2005 when she finally released her own line. By doing this she got to showcase her creativity like never before. This new freedom allowed her to create the Maggy Boutique, which is intended for women who embrace a modern and sophisticated style.
Suzi Chin and the Fashion World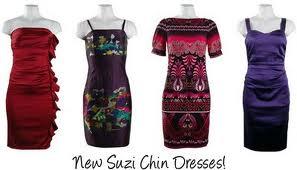 The fashion world has given Suzi Chin a variety of awards and recognition for her products. She has gotten favorable reviews in important publications like Elle, Living Magazine, Women's World Daily, and People, among others. There are also a lot of famous celebrities who have worn her clothes. For example, Gabourey Sidibe, who was nominated for an Academy Award, and Chandra Wilson of the hit television series Grey's Anatomy have worn products from her line. They are no doubt attracted to the exclusive prints and fresh color palette that are incorporated into her clothing line. This is one of the top choices for chic urban women in the professional world.